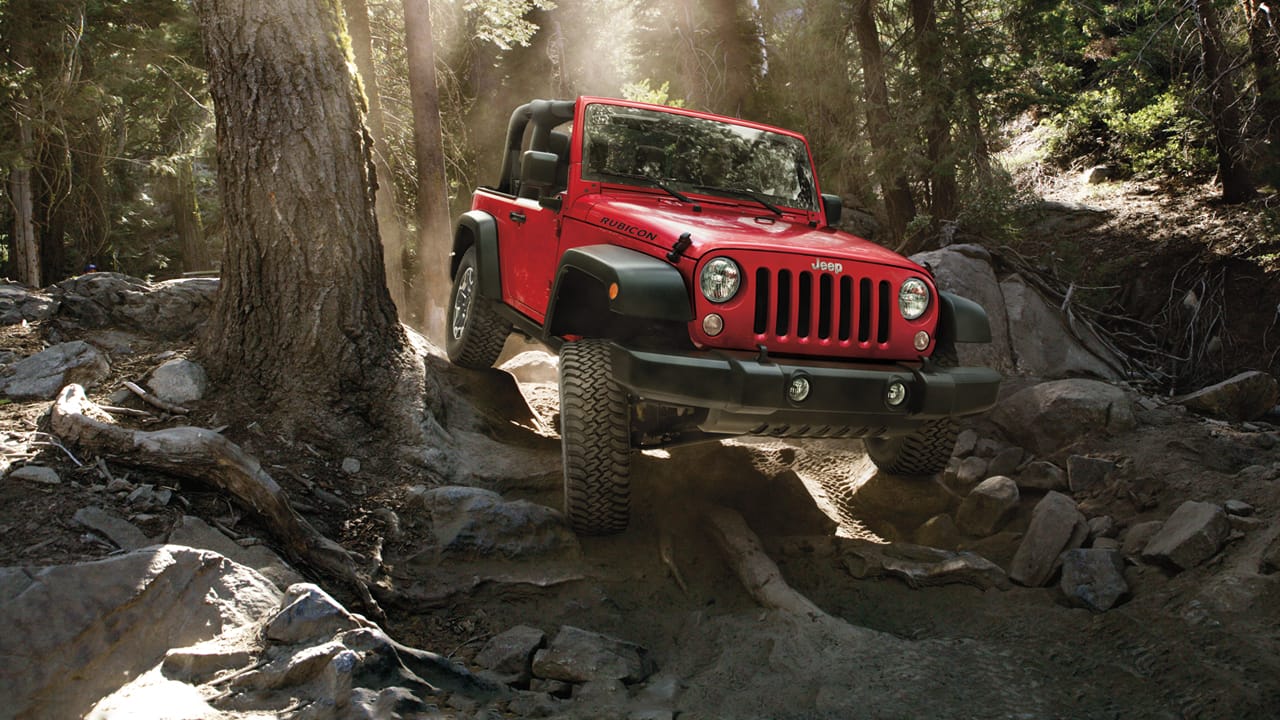 If you're looking for a new Jeep Wrangler in Dallas, Clay Cooley has an impressive lineup of the new model Wrangler that will satisfy all of your off-road needs. Particular models of Wrangler we have for sale include the popular Sport, Sahara, Unlimited, and Rubicon. Our Jeep dealerships in Dallas are here to provide our Jeep-fanatic customers with the customization options between models so they can get the Wrangler of their dreams. Choose the Wrangler Sport and gain a handful of specs that truly make the Wrangler what it is: a 3.6L V6 engine, Command-Trac 4x4 system, skid plates, and wash-out interior. It's equipped for any adventure you take, the dirtier the better.
Choose the Wrangler Sahara and get excited about its features, from the durable 18-inch polished wheels, fender flares that match the body for extra style, embroidered seating, and a premium sound system to get your heart pumping. The Rubicon is ready for a ride that skids off the road with a 4x4 Rock-Trac system for stability, innovative locking differentials, and an electric sway-bar disconnect. Rated as the most comfortable interior in its class, the generous space for storing your gear, leather trimmed seats with heating for the cooler nights, ample interior lighting for safety, and illuminated cup holders keep your comfy journey going through the night.
Functionality is exceeded in the Wrangler. And for good reason! The leather wrapped steering wheel is classy and ideal for various grips. The convenient storage in the center console features as expert lock option to keep your valuables safe in unpredictable terrain that the Wrangler masters. There's no need to worry about keeping the interior clean or having to protect it from unpredictable circumstance. The interior is equipped with expertly placed drain plugs so you can get straight to power washing and clean out any mess with ease. Radio navigation is a helpful tool to always keep you on track, even if the road isn't there. Not only is this SUV capable of catering to all of your needs, we must say, it's just plain fun to drive around!
To really get that hands-on feel, stop on by our Jeep dealership in Dallas and have a test drive with no commitments! And while you're looking, we recommend checking out our other lots that are generously stocked with the great prices we're known for. Clay Cooley's Chrysler dealerships in Dallas are located adjacent for all of your luxury car needs. Our team with Clay is also proud to have the newest Dodge cars for sale at his Dodge dealerships in Dallas, next to the same lot that houses the Chrysler dealership in Dallas. Our Dodge dealers in Dallas are conveniently placed for easy browsing of all of our impressive lots. Clay Cooley has made it easy to visit us, with additional locations in Lewisville, Farmers Branch, and Carrollton. Stop by or give us a call. Our team is ready to show you around!